Copyright SSME Site updated 29/10/2023 Web Master NAM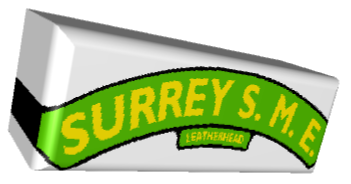 Welcome to The Surrey Society of Model Engineers Website
We Hope You Enjoy Your Visit
OPEN DAYS 2023, PLEASE SEE OUR OPEN DAYS PAGE FOR FULL DETAILS
WE ARE NOW ABLE TO TAKE CREDIT CARD PAYMENTS
Welcome to The Surrey Society of Model Engineers. We are a society for anyone interested in model engineering, although we mainly concentrate on miniature railways. The club grounds are situated in a beautiful part of Surrey, close to the river mole at the lower end of Leatherhead.
Our extensive tracks feature both ground and raised level, in many gauges, with a variety of different locomotives & rolling stock. Our 320 metre long Jubilee extension opened on the 4th June 2012, so giving a longer ride on every Public Open Day.
There is no parking permitted in Mill Lane as access needs to be kept clear for emergency vehicles and residents, however there will be limited opportunity for the dropping off persons with impaired mobility and those persons unloading equipment, food etc. for pre-paid party areas only but the driver must stay with the car.
Ground conditions & weather permitting, our adjacent car parking field will be available for use. If closed please use local car parks.
We thank you in advance for your corporation.
PLEASE NOTE, Mill Lane now has a 2 metre height restriction barrier.